Surprise your boyfriend on his birthday by checking off one of these eight to-do items!
You'll have him wondering how you managed to pull this all off while he's out at work or school,
All he has to do is to open the door when he gets home to find that you've left one of these surprises behind for him.
He'll be so surprised that he can't stop saying you are the most amazing girlfriend.
If you are ready to find out how to surprise your boyfriend on his birthday, hop on, and let's take a ride.
8 Exciting Ways On How To Surprise Your Boyfriend On His Birthday
1. Write A Song For Him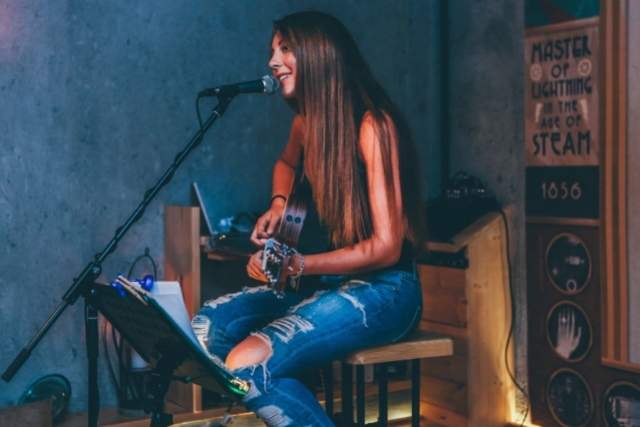 Your boyfriend will be surprised if you record a song and dedicate it to him.
It can also be a wonderful gift because he can listen to it repeatedly.
It will be easy if you know how to play any musical instrument.
All you need is some creativity and love for your boyfriend.
On his birthday, give him a CD containing your original composition; he will love it!
If there is something special about your guy that you know, mention it in the lyrics of your song. For example, if he loves cars, you can sing about his passion for cars.
You can even put pictures of both of you in different places on the cover page of your CD. He will see your face and hear your voice whenever he listens to it.
2. Buy Him An Experience
When it comes to great birthday gifts, experiences are always better than things.
You can't put a framed photo on a shelf and see it every day, but you can see an experience in your mind.
Getting him tickets to a sports game or concert, for example, will not only make his eyes light up but also give you a chance to cheer together at something he loves.
And experiences don't have to be expensive: going out for ice cream and pie is just as good as having the ice cream and pie over at your place.
Another way to give him a memorable experience is to surprise him with a romantic dinner at a fancy restaurant. Make sure it's intimate and fun.
It will not only brighten up his day but yours too! What matters most is that you both have a wonderful time.
3. Let Him Test Drive Something He's Been Eyeing
Car guys get super excited when they see a new vehicle they've wanted.
Why not rent it for your boyfriend on his birthday (if you have the budget) for him to test drive.
He would be excited to drive the car he has always dreamt of, even if it's for a day.
If you live in a city, there's likely an off-road area nearby where he can try out his driving skills.
The experience of owning something for a short time makes it more special than if he had bought it.
If cars aren't his thing, how about video or electronic games
Invite him over to play some video games with you. While you secretly lose and let him win every round because it's his birthday.
To make the birthday even more fun, you can bake some homemade cakes and cupcakes and eat them while playing a video game.
4. Give Him A Massage
Making your partner feel pampered and special is a great way to show him that you care.
If you think your guy isn't the type of person who likes massages, think again.
It doesn't have to be elaborate; do something thoughtful that will put a smile on his face!
For instance, while getting ready for work in front of a mirror, grab his shoulders from behind and give him a gentle rubdown with some lotion.
He might not expect it, but he'll appreciate how good it feels! Or try giving him feet rub when he gets home from work.
If you feel you need to do more on his birthday than give him a massage yourself, you can take him to a professional spa to get a thorough massage.
5. Take Him Out For A Romantic Dinner
There's no better way to keep a man than spoiling him rotten.
You'll find that guys love it when you go out of your way just for them.
Whether it's dinner at his favourite restaurant or watching a movie at the cinema, plan a special date night for your boyfriend on his birthday.
Make sure you make reservations and arrive on time so that he doesn't have a reason to be late or expect you to wait around forever.
Or you can just come to the restaurant together.
He will appreciate all of your efforts to make his birthday special.
Remember, you don't need to spend excessive money to show someone how much they mean to you; sometimes, all it takes is going out of your way to show up and pay attention to them.
6. Get A Message From Him Painted On Your Body By An Artist
There are many ways to surprise your boyfriend, and you can make it special by arranging for a body painter to do some work.
Visit a professional body painting service and tell them you want something for your boyfriend!
They'll provide you with ideas and designs that could be unique enough that he won't know what's coming.
Many services also offer custom stencils to have an image drawn as you see it in your mind.
The best part is that most artists can create great designs on any surface with no limitations!
You should also know that most artists specialize in one specific style or design, so choose something close enough to their specialty.
7. Create A Special Playlist Just For Him
Music can have a powerful influence on a person's emotions.
Why not use that power to your advantage and create a playlist of songs you think he'll love? You don't need to spend lots of money buying CDs or downloading music.
Just visit sites like YouTube, iTunes, and Amazon Music Unlimited and search by artist, album, or song name.
If you find a tune you know your boyfriend would love, add it to your special playlist! Surprise him with the playlist on his birthday; he'll be glad you did!
A romantic date doesn't always involve eating at a fancy restaurant.
Some of the best dates are at home (no awkward interruptions here!).
Whether trying new recipes together or indulging in one of your favourite hobbies, like watching football or playing chess, there are no limits to what you can do together.
Just set up some candles around your living room and get creative!
8. Pick Up A Trinket And Embellish It With Love Notes To Give As A Gift
You can buy something small, like a ring, from his favourite store and give it to him with a special letter.
You can also Fill up little love notes with verses from love songs, quotes from your favourite movies or books, or tell him why you love him and why he means so much to you.
Such actions would make a simple gift look special because you made it just for him.
It's a great way to surprise him too!
He'll think that someone went out of their way to make sure he got a special gift when you did all of it yourself.
Make sure you have enough time, though, because if you don't finish in time, he won't get his surprise!
9. Get Him A Fancy Cake
A good birthday cake can take a ho-hum celebration into something special.
This year, take your guy's (and your own) birthday celebration up a notch with a special cake designed for two and three tiers high.
If you haven't done any baking before, check out some baking YouTube videos.
And don't forget that after all of your hard work in preparing the cake, you would need some fun activities to make the day special and memorable.
Of course, it's always possible you'll be out of town when your man turns another year older. There are plenty of other ways to surprise him when you are not available in person.
You would need a little ingenuity and a cell phone (or smart watch) to pull off some seriously fun ideas that will make his day (and yours!).
Frequently Asked Questions
How Can I Make My Boyfriend Feel Special On His Birthday?
There are a few things you can do to make him feel special; they are listed below:
1. Breakfast in bed on his special day
2. Plan a one-day fun trip for him
3. Organize a surprise party and invite his friends
4. Buy him what he's been raving about (that's if you have the budget)
5. Hide a special love note in his jacket
6. Prepare a homemade cake for him
7. Take him on a romantic dinner
How To Surprise Your Friend On His Birthday Without Spending Money?
Below are a few things you can do to surprise your boyfriend even with no money
1. Be the first to send him a birthday text message
2. Play a video game together
3. Go fishing together
4. Prepare some delicious cupcakes
5. Sing and record a love song for him
6. Write a love letter
7. Surprise with an evening bonfire
What Is The Easiest Way To Surprise Your Boyfriend?
1. A fancy cake
2. 12 o clock text message
3. A video of you wishing him a happy birthday
4. You can send him a birthday card
5. Prepare a candlelight dinner
Conclusion
Now you know how to surprise your boyfriend on his birthday without breaking the bank
For most people, it's easy to surprise your boyfriend with a romantic gift, but how many couples still appreciate practical gifts?
Guys are also fans of gifts that save them time and money.
So try surprising your boyfriend with a clock radio or by getting him tickets for a team he's always wanted to see play.
If you have children, create an adventure; Use his birthday as an excuse to go somewhere new together even if you live far away from one another.
He'll remember your surprise for years, and you can share stories about where you went (and what happened) for years afterwards!