How do you encourage your boyfriend when he's down?
A few years ago, I was in my first relationship ever.
The most stunning part of that experience was how much I was able to care for my partner's feelings.
Whenever she was sad, I was sad. And I wanted to do everything to make her happy.
Now, as a dating coach, a lot of women come to me who want to know…
Words of encouragement for a man you love:
Sad to say, figuring out how to cheer your boyfriend up isn't as straightforward as you'd like it to be.
Many women really don't know what to say to encourage their boyfriends in bad times.
But you don't have to panic.
What can I say to cheer up my boyfriend?
In this article, I'll give you some encouraging words for boyfriend during hard times that you can use to cheer him up.
Encouraging words for boyfriend:
Perhaps you're wondering what to do when your boyfriend is having an upsetting day.
Keep reading and remember these encouraging words the next time your boyfriend needs some serious cheering up.
But first,
Why do we need words of encouragement?
All of us – men and women alike, battle self-doubt, insecurity, and discouragement. We experience moments where we feel like giving up.
But men, in particular, have been culturally brainwashed and trained to appear stoic. They hide their feelings, fears, and vulnerabilities.
75 Encouraging Words To Say To Your Boyfriend
25 Encouraging Words For Boyfriend
1. I'm so proud of the man that you are.
2. I'll always honor and respect you.
3. I admire your integrity. And I know other people do too.
4. I feel so safe and secure around you.
5. I love you.
6. I have absolute faith in your ability. And I know you'll make it.
7. Life is more enjoyable with you by my side.
8. Tough times don't last, but tough people do. Babe, you're tough.
9. It's always a blessing to come back home to you.
10.Great things happen to those who make the best of the way things turn out.
11. Happy people don't always have the best things, but they make the best of whatever they have.
12. Thanks for working so hard for us.
13. You're my man.
14. I believe in you.
15. Your strength gives me strength.
16. Life without you is meaningless.
17. Nothing can hinder you from achieving your dream.
18. The sky is your starting point.
19. You'll stand before kings and not mere men.
20. No matter what happens, I know you'll figure it out.
21. You're one of the strongest people I've ever met. You'll conquer this.
22. You're stronger than any adversity. Victory is yours.
23. I feel sad for those who underestimate your capacity and strength. I have seen you conquer more challenging obstacles than this.
24. I know you have what it takes to navigate through these tough times.
25. Your mistakes don't define you.
What to say to your boyfriend when he is going through a hard time?
15 Words Of Encouragement For Boyfriend During Hard Times
1. You'll pull through and bounce back stronger than ever.
2. I can't pretend to know exactly how you feel. But I know you're strong man.
3. Your consistency is stronger than any obstacle.
4. No need to feel stressed, my love. There are plenty of reasons to smile.
5. Things won't always be this bad.
6. This isn't even close to what we envisaged, but worrying won't do us any good.
7. Our greatest victory is not in ever falling, but in rising every time we fall.
8. Fall seven times, stand up eight.
9. It's okay if you break down and cry, but don't stay down there. Let me help you back up.
10. You are such a champ!! You never give up, no matter what! You inspire me.
11. Everyone should have a friend like you!
12. God created you because you are strong enough to live it.
13. Stop letting fear get in the way and do the damn thing already.
14. Not all great things that change feel positive in the beginning.
15. Just because you're struggling doesn't mean you're a failure.
5. Encouraging Words For Boyfriend Bad Day
1. I hate that you're going through this. It hurts me.
2. I can tell you're disturbed. I wish I could fix it.
3. You don't deserve any of these, and I'm so sorry.
4. I can't believe she (your manager) said that to you. That would have made me so mad.
5. It makes sense that you're feeling so shitty. This is so much to deal with.
How do you comfort a man when he's stressed?
5. Encouraging Words For Boyfriend At Work
1. Dear, life's hard, no doubt. But how we act during tough times defines who we are. I completely trust you. And I know you'll be able to overcome this little setback at your job."
2. Bob, my love, the challenges in life are only meant to make us better. And challenges aren't permanent. So, don't give up so easily, babe."
3. You know, dear, coming up with a full-blown marketing plan will take a lot of time and patience for you to complete. I'd be glad to assist you every step of the way to ensure that you complete this task."
4. James, my love, you seem worried lately. Is it because of the upcoming presentation you have at the office? You know we make such a great team together, right? So, I'll help you with some part of the research you need."
5. You aren't destined to remain in the same position forever. I know you can overcome any challenge life throws at you. So stay strong and see your effort bear fruits in due time.
How do you inspire someone you love?
10. Words Of Encouragement For A Man You Love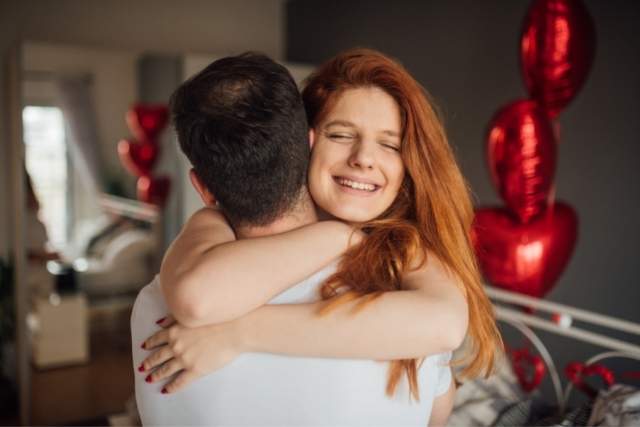 1. Anything I do with you is my favorite thing.
2. Of all the amazing friends I have, you make me proudest.
3. You help me see the world differently. Sometimes, I try to imagine what I'd do without you.
4. If anyone could make the best of this opportunity, it's you.,
5. I love the way you look at me.
6. You don't listen to reply. You listen to understand. And I love you for that.
7. You understand me better than anyone. I feel most at home with you.
8. You put effort into trying to understand my points more than anyone else. It means more than you know.
9. Your soul is every bit as beautiful as the rest of you. Please don't waste it.
10. Life is a lot more fun and adventurous with you by my side
How do I motivate him over text?
10. Encouraging Texts For Him
1. I can't stop thinking of you. I know you've got this.
2. Your actions inspire me to become a better version of myself.
3. I want to be there when you need me to be. 
4. Coming back home to your arms is the best part of every day.
5. Today I can face anything life throws at me because the more time I spend with you, the stronger I get.
6. I worry about you the least, but I also think about you the most.
7. You prove me wrong when I think I couldn't be more impressed by you.
8. No one is positive 100 percent of the time. So, babe, it's okay not to feel okay.
9. One of your kisses always makes the day better.
10. Every comeback is always stronger than your setbacks.
How do I uplift my man with words?
5. Encouraging Love Messages For Him
1. My love, don't let yesterday take up too much of today. Work for the future.
2. My king, challenges are what make life fascinating; overcoming them is what makes life meaningful. You will overcome your challenges.
3. My love, I don't want to see you stressed; there are many reasons in life to smile.
4. I'm with you till the end, my love. Everything will be fine.
5. I believe you can make it; there is always a second chance. Don't be discouraged, my love.
Final thoughts
Not every woman is great at coming up with inspiring phrases to comfort and assure her boyfriend.
Hence, it would help if you learned what to say when he's going through difficult times.
 So, use these samples of encouraging words for your boyfriend as inspiration to come up with your own to show him how much you believe and care about him.