"I cannot date a man with kids…"
Maris reaffirmed, sitting across the table in my office.
Friends and family members have been calling her all sorts of names (selfish, too picky, etc.),
For not wanting to date a man with kids.
It isn't her fault.
Dating someone with kids is a tough job and come with a lot of responsibility.
So, it's okay if you don't want to date a man with kids.
You don't have to do it if you aren't interested.
In this article, I'll give solid reasons not to date a man with a kid.
But first, here's Maris's story:
Maris was seeing this amazing guy.
His name is Austin.
He's kind, funny, has a great job, and is also really attractive.
He is thoughtful and eager to learn new things.
She was really into him.
However, when Austin opened up to her about having two kids,
She just backed off.
Now, she's thinking: is dating a man with a child worth it?
Am I wrong or shallow for not dating guys with kids?
Is it wrong not to want to date someone with kids?
Perhaps, you may have the same conflicting thought right now.
And you don't know what to do.
You aren't alone. This article is just for you.
6 Valid Reasons Not To Date A Man With A Kid
1. You'll Be More Than A Partner. You'll Be A Stepmom
Mercy was only 22 when she started to date a man with a kid.
Solomon, her boyfriend, was 30 with an eight years old daughter.
At first, he didn't have custody of the child. So, it wasn't a big deal.
Then, they decided to move in together.
He leaves the house early as a factory worker and gets home at 4 pm.
Mercy, on the other hand, works in the food industry.
She resumes at 11 am and closes by midnight on most days.
So, they both had tough jobs.
The boyfriend's daughter (now 10 years old) was coming to spend her first weekend with them.
Mercy comes home, makes popcorn,
And then she and Solomon's daughter decides to play Pictionary.
She has the kid's version of it, so it isn't a big deal.
The little girl has the card and needs to draw but can't read.
Mercy has to read and tell her what to draw.  
First, it was 'dog house,' then 'penguin,' and then 'giraffe.'
Solomon soon realized that his daughter wasn't doing well intellectually because her mother,
Wasn't paying attention to her and then called his ex-wife he wanted custody.
Then, the responsibility of raising the kid fell on Mercy.
Getting her up and preparing her for school each day.
Teaching her and practically raising her.
She realized she wasn't ready to raise a child at 22, so they broke up.
"The reason I don't want to date any man with kids is that there's no way around the responsibilities." She said.
Perhaps, you're saying to yourself,
"my boyfriend has a child from a previous relationship."
So, there's the responsibility of buying diapers, clothes, and everything the child(ren) needs.
Besides, they'll look up to you as much as they look up to their parents.
It's like having your own kids already.
You see, when you're dating someone with a kid in your 20s, or even dating a guy with kids,
You must understand that you're going to be more than just a partner.
You're also a potential stepmom.
So, you must be prepared to take up the role.
This is one of the tips for dating a man with a child you must always keep in mind.
So, is it wrong to date a guy with a child?
Go ahead with the relationship if you're willing to take the role of their mother,
Take care of them, be patient with his child, add value to them, and love them as your own.
However, don't date a man who has a child if you aren't prepared to be a stepmother.
2. You Might Not Want Kids, Or (He Might Not Want More Kids With You)
Is it weird to date a guy with a kid? Was the question I posed to Sonia.
And her reply was, "I don't date men with children."
She doesn't like them and doesn't want to be around them.  
Is it wrong for me not to want to date a guy with kids? She asked
She's 31 and divorced. She once married a man with kids and had a shitty experience from it.
Sure, she loved her stepchildren but hated being a stepmom.
But now, she doesn't want to be seriously involved with someone who has kids.
Besides, she doesn't want kids of her own.
The opposite was true in Sherry's case.
Sherry was confident she wanted kids when she first started dating.
On the other hand, Bright already had a child from his previous relationship.
He was confident that he had enough of being a father and lacked the energy and the drive to bear more kids.
Although they discussed it,
It always resulted in silent treatment and quarrels.
Their love couldn't bridge the gap, and they eventually split up.
It wasn't easy for Sherry.
There were times when she resented the fact that her boyfriend already had a child.
She had to leave since that wasn't healthy.
Again, it wasn't easy for her.
He could not grant her wish despite their love for each other.
You may be wondering, "What to expect when dating a man with a child?
 When considering dating someone with a kid, this possibility could occur.
Your needs are valid and deserving of attention.
Instead of continuing to be dissatisfied and irritated in a relationship,
It is preferable to be with someone who can fulfill them.
It serves no purpose to date a man with kids and feel left out or as though your needs aren't important.
3. The Drama Of Baby Mamas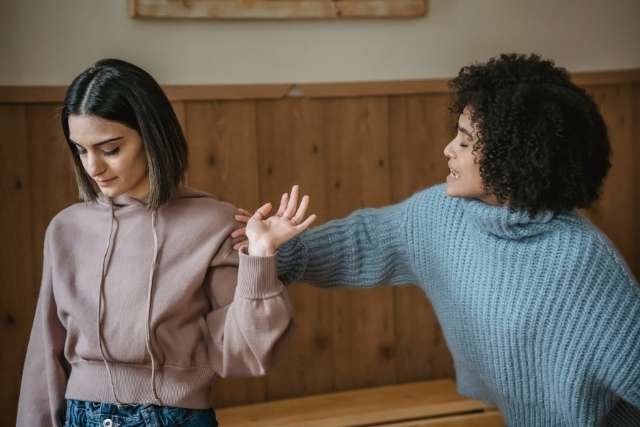 Ruth and Luck had been dating for about three months when she met his ex-wife, Sarah.
Sarah and Luck had a son, Moses.
Right off the bat, Ruth and Sarah had issues.
Sarah didn't think she was a good influence on her son,
And didn't want another woman in the house around her son either.
The air between them was icy, which led to major long-term issues.
Depending on your situation,
You have to deal with the drama that comes with dating someone with kids in your 20s or 30s or whatever age you're in.
Trust me; there are very few instances where that doesn't bring drama.
Most women I coach that are dating men with kids have told me that they had so much drama dealing with baby mamas.
And that it just isn't worth it.
So, this is one scenario if you're wondering what to anticipate when dating a man who has a child.
This is a crucial issue that has the potential to deepen disputes and ruin the relationship.
One of the signs is an inability to get along with your boyfriend's ex
Similarly, the child's biological mother can disagree with you on your parenting style.
In other words, it might be more complicated than it seems to date a man who has a child and a baby mama.
Your emotional and mental well-being may always be in jeopardy.
Is there any relationship in life worth jeopardizing your mental health for?
Your answer is a good as mine.
4. You'll Have To Constantly Overlook His Child's Rude Behaviors
Jerry and Doris had been dating for a while.
Before they met, Jerry had a daughter,
Susan a teenager – who didn't like the fact that her dad was dating.
She was rude toward Doris and constantly reminded her that she had no business being in their family.
The sad part was that her dad, too, sided with her.
Doris reflected, saying,
"There was no mention of how painful and exhausting it was for me.
I always had to overlook the fact that Susan was young and finding my relationship with her dad too hard to handle."
If you're thinking about dating a man who has a teenage daughter (or son),
You should be aware that this is a common situation.
According to a Texas Women's University study, teenagers frequently become irritated when their parents start dating.
Especially if it's his first relationship following a divorce or spouse death.
Even worse, your boyfriend may be consumed with guilt and constantly try to side with his kids.
It could make you feel left out of the relationship.
You'll need to be patient, kind, and sympathetic.
Everything might appear great up until you want to shout out in frustration and become the face of a meme warning women,
"never date a man with a child."
It hurts to say,
"My boyfriend always puts his child ahead of me,"
But it's preferable to avoid the situation if it's something you can't handle.
5. Difference In Goals
This is one of the disadvantages of dating a man with a child.
Want to take a last-minute weekend trip?
He can't make it without a reliable daycare.
Want to enjoy a special dinner to mark your anniversary?
But no one to tell bedtime stories to his kid.
It's also unlikely that he will follow you if you have to move for work across cities.
You'll be left contemplating whether dating a man who has a child is worthwhile.
In my opinion, it's advisable to stay away from such a circumstance.
The question is, how long are you willing to be a placeholder?
Do you want to be with a man who has children while feeling left out?
Is there any relationship worth sacrificing your self-esteem or identity for?
Think about it.
6. Despite Your Best Efforts, You Are Not A "Real Parent."
Although we have made significant advancements in surrogacy, IVF,
And adoption, biology still holds supreme.
You might have taken all the necessary steps,
Given everything you had, and made all the necessary sacrifices.
But what do you get in return for all that suffering and labor?
A nasty remark that implies you aren't a "real parent" and don't have parental rights.
This statement could be from the kid, the ex-wife, or even your man.
The truth is that your thoughts and ideas are less important because you are not the biological mother.
And dealing with this in a relationship is exhausting and unpleasant.
This is one of the bitter truths about dating a man with a child and an ex
I suggest you steer clear of dating a man who has children,
Unless you're willing to experience this repeatedly and prove your worth as a partner and a stepmother.
So, if you aren't ready for such drama, that's enough reason not to date a man with a kid.
By the way, who needs a relationship that has the potential to become so toxic?
Frequently Asked Questions
Is It Wrong To Date A Guy With A Child?
I want you to understand my stance on this topic.
I'm not totally against dating a man with kids.
However, I want you to understand that it comes with significant responsibilities.
And if it's something you're up for, great, by all means, date.
But, if you think it's something you aren't ready for, then don't.
My job is simply to provide enough information so you know exactly what you're getting yourself into and weigh your options.
The bottom line is that it's entirely up to you.
How Do People Cope With Dating A Man With A Daughter? Is It Selfish To Want To Come First Place, Knowing Fully Well The Child Comes First?
NO!! You are not being selfish!
After all, you're human!
You are a woman who desires and deserves to be properly loved by a man without a little daughter stealing his attention from you.
Don't ever feel you're wrong. It's perfectly acceptable for you to desire exclusivity.
However, if you so much love this man,
And you know you can deal with the responsibilities that come with dating a man with kids (as I have mentioned above),
By all means, try and talk things out with him.
He needs to prioritize you, no doubt, but his little girl is also important.
So, if you can understand his position and be patient with him,
Things could work out the way you want.
Would You Date Or Start A Relationship With A Man If He Has Kids? If Not, Why?
Here's why dating a man with kids is a bad idea.
1. It comes with baby mama drama or ex-wife issues.
2. The children would always remind you that you aren't their biological mother
3. Too many responsibilities
4. He may not want kids with you
5. He probably won't have time for you etc.